YOU ARE MY LORD AND THE TRUTH THAT I CLING TO
YOUR BEAUTY AND SPLENDOR CANNOT BE PIERCED BY ANY SWORD
YOU ARE ALL GOODNESS GUIDING ME THROUGH THE DRIEST DESERT
FOR YOU ARE THE SPRING OF LIFE REFRESHING MY BODY AND MY SOUL
LET YOUR RAIN, FALL ON ME, FILLED AND OVERFLOWING
LET YOUR RAIN, FALL ON ME, MAKE MY HEART YOUR OWN
LET YOUR RAIN, FALL ON ME, FILLED AND OVERFLOWING
LET YOUR RAIN, FALL ON ME, MAKE MY HEART YOUR OWN
YOU ARE THE FATHER OF US ALL, RIGHT FROM THE VERY BEGINNING
YOU STRETCHED OUT YOUR HAND AND THE HEAVENS WERE BORN
YOU ARE MY GLORY LORD, A SWEET AND PLEASING FRAGRANCE
YOUR LOVE WILL SUSTAIN ME NOW AND FOREVER MORE
CHORUS
TO YOU I SING PRAISE, WITH THIS GRATEFUL HEART OF MINE
MY PEACE RESTS IN YOU, YOU AND YOU ALONE
IN YOUR SPIRIT, I SOAR UP LIKE THE MIGHTY EAGLE
FOREVER WITH YOU LORD, HEAVEN IS MY HOME
CHORUS 2X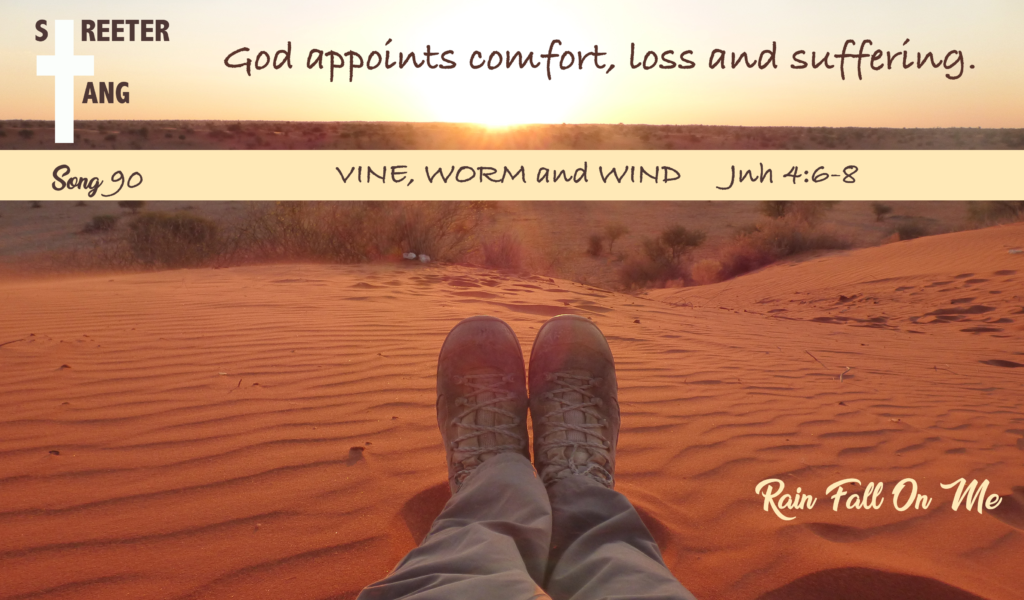 God's goodness is shown not only in His blessings but in losses and sufferings. God disciplines those He loves (Heb 12:7,8,9,10,11). An undisciplined child is an unloved child and experiences frustration in life and cannot appreciate blessings because of his or her lack of hardships.
Jonah was disciplined by God first for his rebellion against God's will but later for his resentment towards the people of Nineveh. God instructed Jonah with an object lesson by providing a vine to comfort him in the hot desert sun (Jnh 4:6). But, then He provided a worm that took away Jonah's comfort so that he could experience loss (Jnh 4:7). Finally, God sent a strong wind to cause suffering (Jnh 4:8). Jonah needed to learn from Job that the Lord gives and the Lord takes away, yet, blessed be the Lord (Job 1:20,21).
So when God gives you a vine, be thankful, but when He provides a worm to cause you loss, be worshipful, and when He allows a strong wind to cause suffering in your life, know He is loving you as a son and praise Him.