WHEN YOU WAKE UP TO A CLOUD OF DOUBT
WONDERING HOW YOUR GONNA WORK THINGS OUT
AND YOU DON'T KNOW HOW TO MAKE ENDS MEET
WELL HONEY, THAT DON'T HAVE TO MEAN DEFEAT
YOU CAN COUNT ON GOD'S PROMISE
IT WILL ALWAYS BE
JUST REMEMBER,
HE LOVES YOU
WHEN YOU'RE GOOD OR BAD*
HE LOVES YOU
WHEN YOU CALL OR WHEN YOU FALL
HE LOVES YOU
WHEN YOU DO AND WHEN YOU DON'T
HE LOVES YOU
WHEN LIFE IS LIKE A LOSING GAME
DON'T GIVE UP, JUST KEEP ON PLAYING
IF YOU GET FOOLED BY THE BIG PRETENDER
BABY, STAND FIRM AND DON'T SURRENDER
YOU CAN COUNT ON GOD'S PROMISE
THAT HE WILL ALWAYS BE THERE
CHORUS
IF YOU GET HURT BY THE WORDS THAT ARE SAID
CAN'T GET THE CONVERSATION OUT OF YOUR HEAD
NO NEED TO FEEL THAT YOU'RE ALL ALONE
HONEY, HE WANTS YOU FOR HIS OWN
YOU CAN COUNT ON GOD'S PROMISE
THAT HE WILL ALWAYS BE THERE
CHORUS 2x
BREAK
CHORUS
*God loves us when we are good or bad because He loves us unconditionally. Jesus loved the rich young ruler, even though he was struggling to give up his temporal riches in order to make God his true love Mk 10:21. David committed adultery 2 Sa 11:4 and murdered Uriah 2 Sa 11:15,24, yet God stated that David was a man after His own heart Ac 13:22. However, we do grieve God by our disobedience Eph 4:30. God will discipline us to help change our behaviour because He loves us Heb 12:6.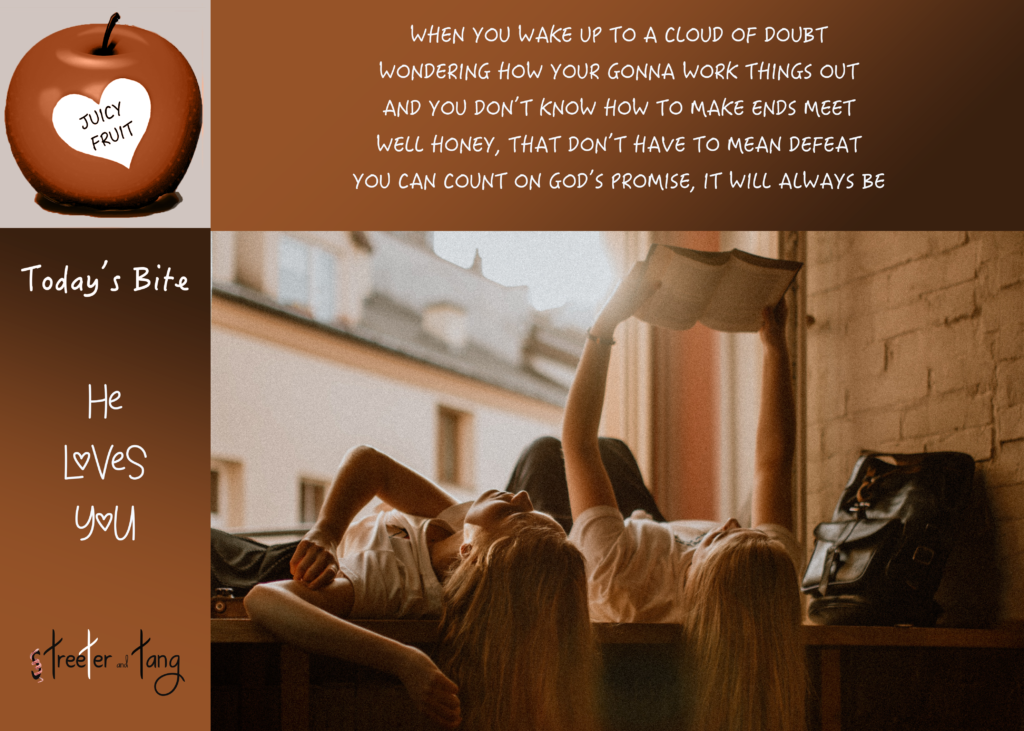 Our greatest need is to be loved. We spend a lifetime searching for someone that will love us unconditionally. Unfortunately, because of Adam's sin, we have inherited his sin nature that makes it near impossible to love anyone unconditionally. The closest love to this kind can be seen in a mother's love for her wayward child. However, there is One who can always love us unconditionally and yearns to adopt us into His family. All we need to do is repent of our rebellion towards Him, receive His forgiveness and allow Him to come inside to love us. There is only One that proved to have this kind of love, and his name is Jesus Christ Jn 3:16.