(NO) FEARING DEATH
In the Physical and Spiritual Realms
 As humans, we experience periods of waning and waxing in our physical and spiritual lives. But have you ever realized that these two realms usually act in opposite directions. When circumstances are bright in the physical realm and health is not an issue, people are usually highly fearful of death, for they do not want to leave this world, when everything is working out for them. However, if health is failing, or they are undergoing physical or emotional pain, or experiencing financial or relational hardships, then their fear of death is minimal, in fact some even welcome it.
However, if one is focused on the spiritual realm, the opposite occurs. When people feel distant from God, they are very fearful of death and do not like to talk or think about it. But, if one has come to truly know our Lord and has felt His presence and power in his or her life, then there is no fear of death. Their common prayer would be "Even though I walk through the valley of the shadow of death, I fear no evil, for You are with me; Ps 23:4. Now, this is the place that all of us should strive to be in. This is the space Paul occupied when He stated, "For to me, to live is Christ and to die is gain.  If I am to go on living in the body, this will mean fruitful labor for me. Yet what shall I choose? I do not know!  I am torn between the two: I desire to depart and be with Christ, which is better by far; but it is more necessary for you that I remain in the body. Php 1:21-24. For the early Christians that were being persecuted and martyred by the Romans, "Maranatha" (meaning: come Lord Jesus come) was their common greeting, replacing the Jewish shalom (peace), for they were looking forward to the return of Christ, where He would put an end to all evil rule and replace it with His righteousness. We need to persevere, like the early Christians by setting our minds on things above knowing that soon we will be with Christ in GLORY Col 3:1-4. Below is a heartfelt prayer with this same mindset.
WONDERFUL TO ME
YOU ARE WONDERFUL TO ME
YOU ARE WONDERFUL TO ME
ALL I EVER HOPE TO BE
IS ONE DAY IN YOUR PRESENCE LORD
WHAT GLORY THERE WILL BE
THERE ON BENDED KNEE
ALL I EVER HOPE FOR LORD
FOREVER CLOSE TO THEE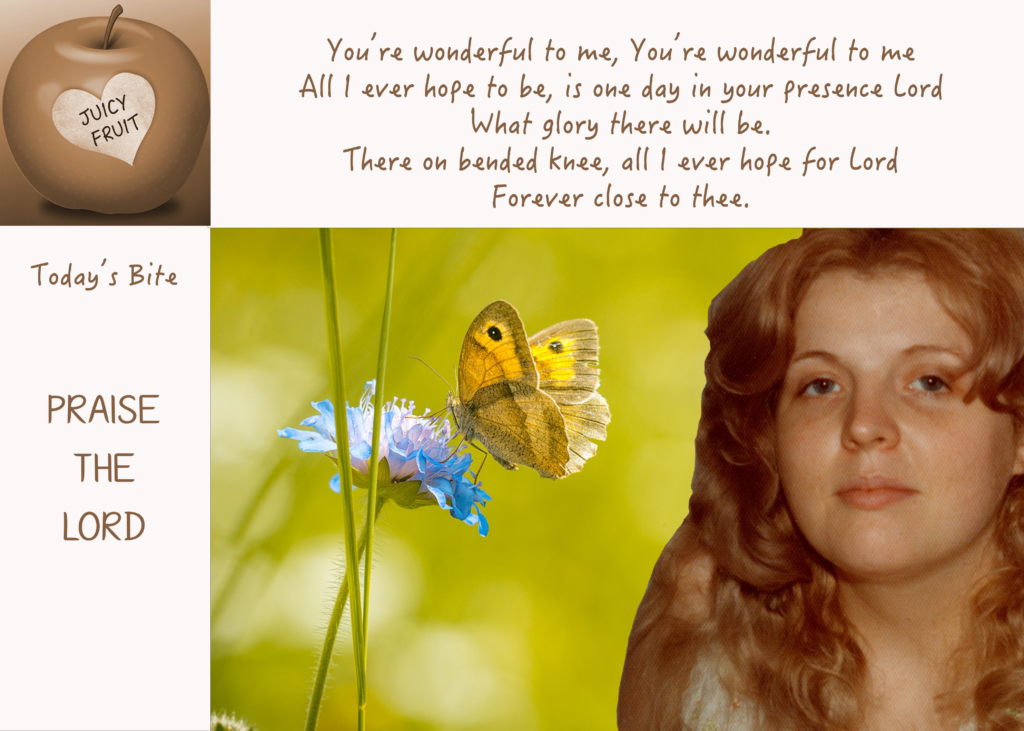 BEHIND THE SONG
I had asked Julia to sing while I played around with the different reverb settings.  Many times Julia would worship God in free style singing rather than praying words.  So instead of just singing anything, she began worshiping as her prayer to God.  After, I realized how powerful this spontaneous song was, we decided to make it into a full worship song. The intro is the actual free-styling recording track.