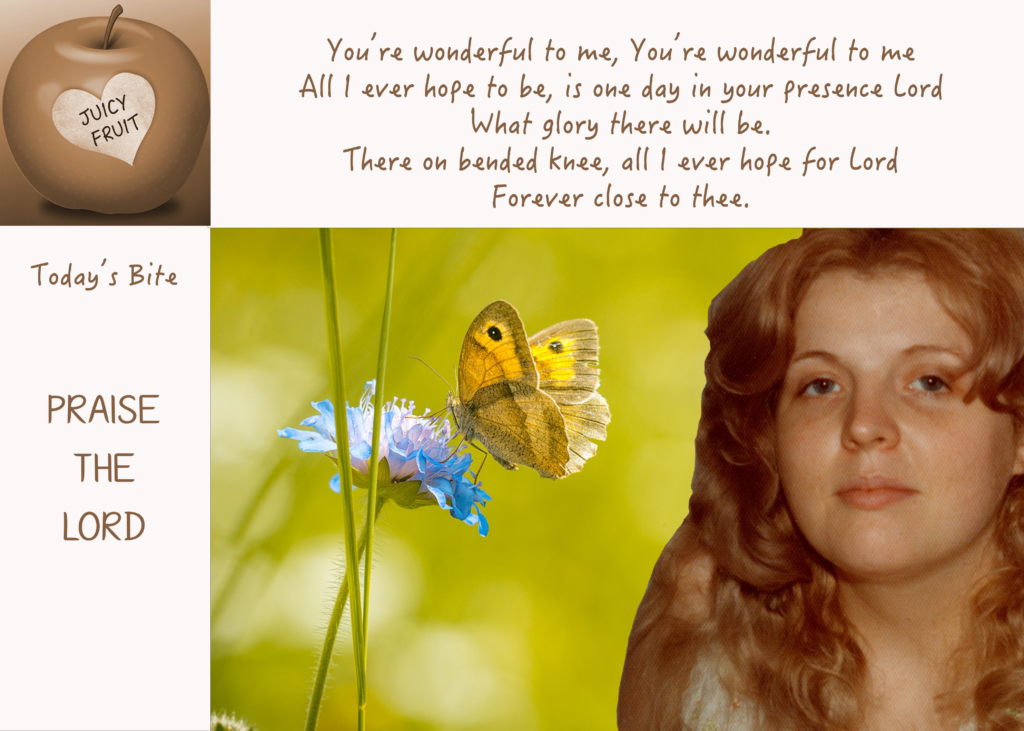 WONDERFUL TO ME
IMPROVISATION YOU ARE WONDERFUL TO ME
YOU ARE WONDERFUL TO ME
ALL I EVER HOPE TO BE
IS ONE DAY IN YOUR PRESENCE LORD
AND THERE I WILL BE
(THERE ON BENDED KNEE)
FOR ALL I EVER HOPE TO LORD
(ALL I EVER HOPE FOR LORD)
IS BE CLOSE TO THEE
VERSE 1 YOU ARE WONDERFUL TO ME
YOU ARE WONDERFUL TO ME
ALL I EVER HOPE TO BE
IS ONE DAY IN YOUR PRESENCE LORD
WHAT GLORY THERE WILL BE
THERE ON BENDED KNEE
ALL I EVER HOPE FOR LORD
FOREVER CLOSE TO THEE
VERSE 2 YOU'RE WONDERFUL TO ME
YOU ARE WONDERFUL TO ME
ALL I EVER HOPE TO BE
IS ONE DAY IN YOUR PRESENCE LORD
WHAT GLORY THERE WILL BE

THERE ON BENDED KNEE
ALL I EVER HOPE FOR LORD
FOREVER CLOSE TO THEE
VERSE 3 YOU ARE WONDERFUL TO ME
YOU ARE WONDERFUL TO ME
ALL I EVER HOPE TO BE
IS ONE DAY IN YOUR PRESENCE LORD
WHAT GLORY THERE WILL BE

THERE ON BENDED KNEE
ALL I EVER HOPE FOR LORD
FOREVER CLOSE TO THEE
ALL I EVER HOPE FOR LORD
FOREVER CLOSE TO THEE
BEHIND THE SONG
I had asked Julia to sing while I played around with the different reverb settings.  Many times Julia would worship God in free style singing rather than praying words.  So instead of just singing anything, she began worshiping, as her prayer to God.  After, realizing how powerful this spontaneous song was, we decided to make it into a full worship song. The intro is the actual free-styling recording track.
Improvising with your voice or instrument can be a form of speaking or singing in tongues. You are unaware of the melody the notes are forming, yet it is edifying the musician, as you are connecting with God, offering praise through the gift, the Holy Spirit has given.
 For anyone who speaks in a tongue does not speak to people but to God. 1 Co 14:2
Anyone who speaks in a tongue edifies themselves…1 Co 14:4
For this reason the one who speaks in a tongue should pray that they may interpret what they say. 14 For if I pray in a tongue, my spirit prays, but my mind is unfruitful. 15 So what shall I do? I will pray with my spirit, but I will also pray with my understanding; I will sing with my spirit, but I will also sing with my understanding. 1 Co 14:13-15
When you are improvising, your mind does not know what is being communicated to God. It is unfruitful, but your spirit is being edified as it is worshipping the Lord, making a joyful sound. God is pleased whenever we use a gift, which He has given, to bless Him or others.
Therefore, my brothers and sisters, be eager to prophesy, and do not forbid speaking in tongues. 40 But everything should be done in a fitting and orderly way. 1 Co 14:39,40 
Be eager to prophesy because it edifies everyone. Speaking in tongues without interpretation is  to be done in the presence of God, not before man, as it only edifies the one speaking or singing and can cause confusion at a church service. It is a gift from the Holy Spirit and can't be forced into practice, as not everyone will be given this gift.
All these are the work of one and the same Spirit, and he distributes them to each one, just as he determines. 1 Co 12:11
Do all have gifts of healing? Do all speak in tongues? Do all interpret? 1 Co 12:3
---
(NO) FEARING DEATH
In the Physical and Spiritual Realms
 As humans, we experience periods of waning and waxing in our physical and spiritual lives. But have you ever realized that these two realms usually act in opposite directions. When circumstances are bright in the physical realm and health is not an issue, people are usually highly fearful of death, for they do not want to leave this world, when everything is working out for them. However, if health is failing, or they are undergoing physical or emotional pain, or experiencing financial or relational hardships, then their fear of death is minimal, in fact some even welcome it.
However, if one is focused on the spiritual realm, the opposite occurs. When people feel distant from God, they are very fearful of death and do not like to talk or think about it. But, if one has come to truly know our Lord and has felt His presence and power in his or her life, then there is no fear of death. Their common prayer would be "Even though I walk through the valley of the shadow of death, I fear no evil, for You are with me; Ps 23:4. Now, this is the place that all of us should strive to be in. This is the space Paul occupied when He stated, "For to me, to live is Christ and to die is gain.  If I am to go on living in the body, this will mean fruitful labor for me. Yet what shall I choose? I do not know!  I am torn between the two: I desire to depart and be with Christ, which is better by far; but it is more necessary for you that I remain in the body. Php 1:21-24. For the early Christians that were being persecuted and martyred by the Romans, "Maranatha" (meaning: come Lord Jesus come) was their common greeting, replacing the Jewish shalom (peace), for they were looking forward to the return of Christ, where He would put an end to all evil rule and replace it with His righteousness. We need to persevere, like the early Christians by setting our minds on things above, knowing that soon we will be with Christ in GLORY Col 3:1-4. Below is a heartfelt prayer with this same mindset.
God has given all believers His Holy Spirit. But, there are times when we are not sensing God's presence. This is the time to fan into flame the fire of the Holy Spirit.
For this reason I remind you to fan into flame the gift of God, which is in you (Holy Spirit) through the laying on of my hands. 2 Ti 1:6
Why is this done? If we ignore the maintenance of a campfire, eventually it will consume all the energy from the wood. As Christians, we can lose our zeal for the Lord. 
Don't burn out; keep yourselves fueled and aflame….Ro 12:11 MSG
How is this done? To fan into flame a fire that has almost gone out, one must blow oxygen onto the embers, then fan the flame until it begins to grow. Later, more kindling and logs can be added to maintain the fire.
Spiritually, we need to breath in the oxygen of God.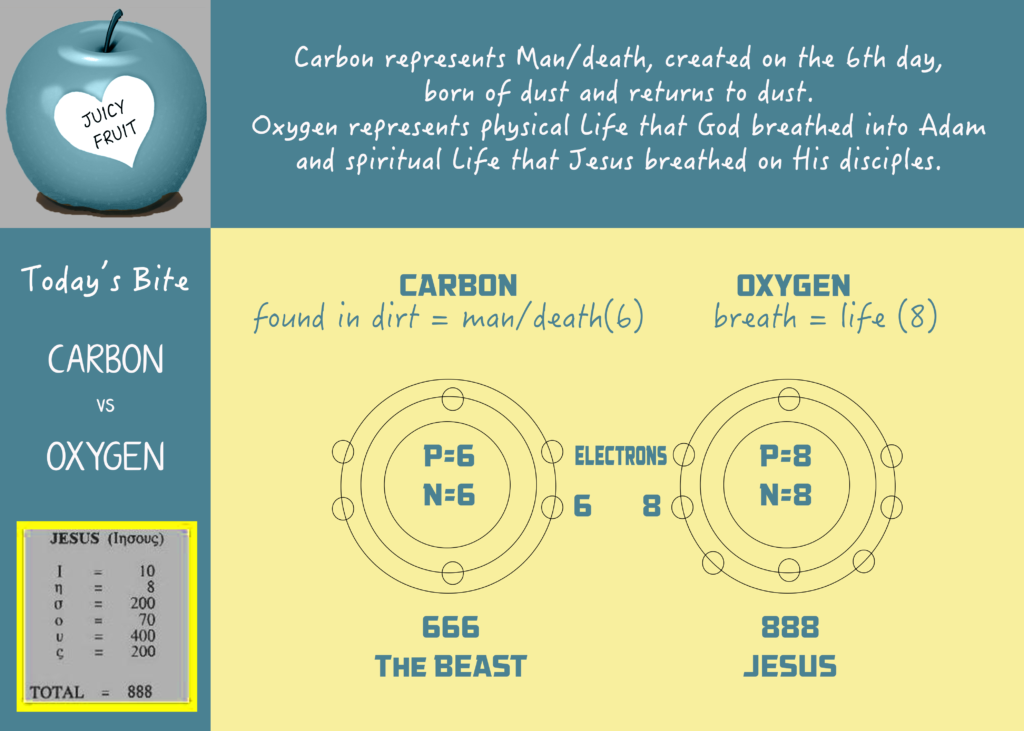 That oxygen is infused through being in the Lord's presence, then reading and meditating on the Scriptures. The fanning takes place as we worship God through praise, thanksgiving and obedience to His commands.
Popcorn analogy: heat from the fire makes the popcorn seeds pop, overflowing the pot. The Holy Spirit's fire enlightens the promises and commands of God, to fill the believer with burning love Lk 24:32 and inexpressible and glorious joy 1 Pe 1:8.
I pray that out of his glorious riches he may strengthen you with power (fire) through his Spirit in your inner being, 17 so that Christ may dwell in your hearts through faith. And I pray that you, being rooted and established in love, 18 may have power, together with all the Lord's holy people, to grasp how wide and long and high and deep is the love of Christ, 19 and to know this love that surpasses knowledge (gained through experience by being in the Lord's presence) —that you may be filled to the measure of all the fullness of God. 20 Now to him who is able to do immeasurably more than all we ask or imagine, according to his power that is at work within us, Eph 3:16-20
19 Don't put out the Spirit's fire. 20 Don't despise what God has revealed. 21 Instead, test everything. Hold on to what is good. 1 Th 5:19-21 GWT