.
HOW BEAUTIFUL YOU ARE MY LORD Ps 27:4
OH HOW BEAUTIFUL Ps 50:2
EYES FULL OF COMPASSION Mt 9:36
YOUR LOVE IS INDISPUTABLE Ro 5:7,8
YOUR WISDOM IS AMAZING Mk 12:17
AND TENDER ARE YOUR WAYS Mt 12:20
A LOYAL FRIEND, THERE IS NO EQUAL Jn 15:13
YOU ARE WORTHY OF MY PRAISE Php 4:8
SWEET LOVE Song 5:16
FULL OF TRUTH AND FULL OF GRACE Jn 1:14
SWEET, SWEET LOVE Ps 119:103
FOREVER I WILL SEEK YOUR FACE Ps 105:4
CELEBRATED FOR YOUR GIFT OF LIFE Ro 6:23
OR SCORNED BY YOUR FOES Ps 22:6,7
BUT IF THEY ONLY ASK YOU LORD Ps 50:15; Mt 7:7
YOU'LL LIFT THEM FROM THEIR THORNS Ps 40:2; Gen 3:18 curse
A SAVIOR TO THE LOST Lk 19:10
THROUGHOUT ALL GENERATIONS Mt 23:37
YOU ARE THE SAME, TODAY AND FOREVER Heb 13:8
SEEKING THOSE FROM EVERY NATION Ac 17:26, 27; Mt 28:18,19,20
CHORUS
HOLY GOD, MAGNIFICENT Ex 15:11
THERE IS SPLENDOR IN ALL YOU DO Ps 145:5
SAVING THIS SINFUL SOUL 1 Ti 1:15
TO MAKE ME MORE LIKE YOU 2 Co 3:18
I'M DAZED AT WHO YOU ARE Neh 9:6
AND YOUR SACRIFICIAL LOVE Eph 5:25
I WANT THE WORLD TO SHARE YOUR JOY Heb 12:2
AND LIFT THEIR HEARTS TO HEAVEN ABOVE Lam 3:41
BREAK
OH MY LORD YOU ARE Rev 1:4
CHORUS 2X
SWEET LOVE. 2 Co 2:15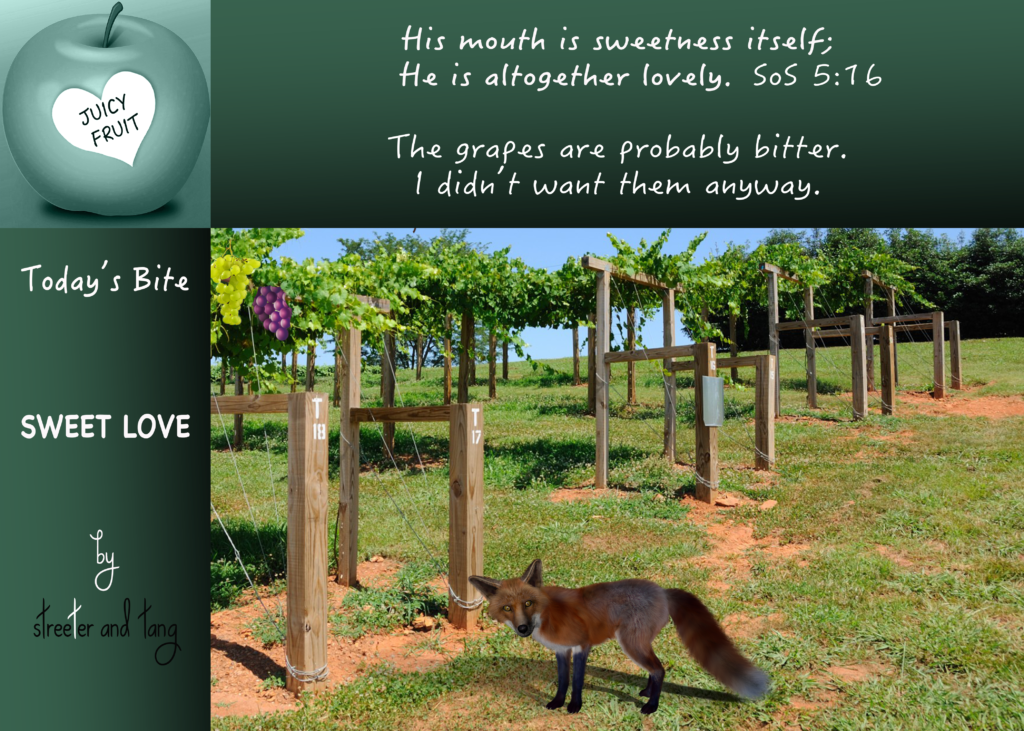 An Aesop fable tells a story of a fox who tried to reach some tasty grapes but because they were too high on the tree he failed.  As he walked away he rationalized that the grapes were bitter and he did not want them anyway.
Many people have had heartbreaking experiences and have blamed God for not answering their desperate prayers.  They rationalize, telling anyone who confronts them with Jesus, our "Sweet Love," that there is no God, and they walk away in bitterness.  The truth is, sin has led to our imperfect world.  God, is the One, who will make all things right.  He has a plan for each of us, to experience true peace and fulfillment.  He offers eternal life, right now on earth, and later, in New Jerusalem with Him.
If you are one of these people that have been disappointed with life's sorrows, then you need to turn to the "Man of Sorrows" and know that He loves you, and has proved His love by dying on a cross for your sins.  On Resurrection Sunday, we celebrate Jesus, who rose from the grave, proving that He is God and that He has the power to give true life.  Don't be like the fox and deny the truth, today, ask Jesus to take control of your life and thank Him for taking away your sins and giving you eternal life.