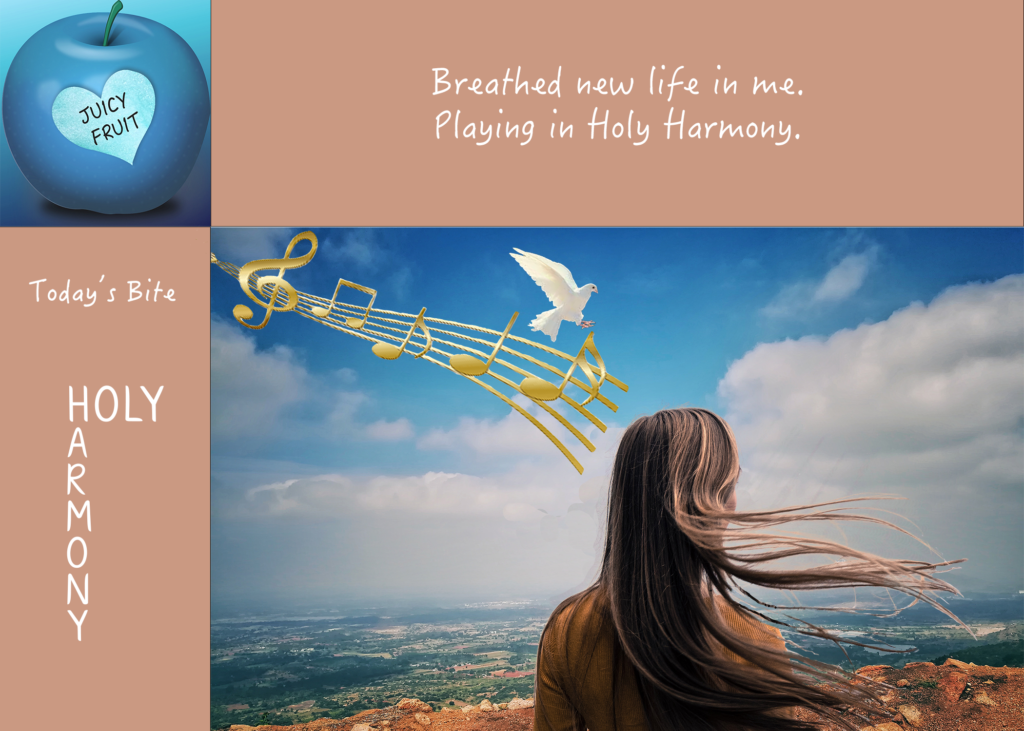 WOVED ME IN MY MOTHER'S WOMB Ps 139:13
BREATHED NEW LIFE IN ME Gen 2:7; Jn 20:22; Jn 3:8
GOD OF ALL THE AGES 1 Ti 1:17
MY STRENGTH FOR EVER BE Php 4:13
YOU HAVE MADE THE HEAVENS Gen 1:1
ROLLED OUT THE ENDLESS SKY Gen 1: 8; Ps 19:1
SET EVERY BRILLIANT STAR IN PLACE Isa 40:26
THAT LIGHTS THE DARKEST NIGHT Gen 1:3,4; Jn 1:5,9; 2 Co 4:6
STRENGTH OF MY HEART (YOUR THE MUSIC) Ps 73:26
MUSIC OF MY SOUL (OF MY SOUL) Ps 108:1
PLAYING IN HOLY HARMONY (PLAYING IN HOLY HARMONY) Ro 12:6,7,8
GOD OF MY LIFE (DEEP INSIDE ME) Ps 42:8
YOUR SONG UNFOLDS (YOUR SONG UNFOLDS) Ps 119:130; Eph 2:10
PLAYING IN HOLY HARMONY (PLAYING IN HOLY HARMONY)
HOLD ME IN YOUR LOVING HANDS  Isa 41:10b; Jn 10:28
I SHALL NOT BE MOVED Ps 62:6 KJV
MAKING STRAIGHT MY EVERY PATH Pr 3:6
SO I CAN WALK IN TRUTH 3 Jn 1:4
YOU'RE MY NOBLE FORTRESS Ps 18:2a
MY REFUGE AND MY STRENGTH Ps 18:2b
I EXALT YOUR RIGHTEOUS NAME Ps 145:1
NOW EVERY KNEE SHALL BEND Ro 14:11
CHORUS
STRONGER THAN THE TALLEST WAVES Ps 93:4a
THE CRASH UPON THE SHORE Ps 93:4b
YOU PUT MY FEET ON SOLID GROUND Ps 40:2a
TO STAND FOREVER MORE Ps 40:2b
NOW EVERY TONGUE CONFESS Php 2:11
AND PRAISE YOU WITH ONE VOICE Ro 15:6
YES YOU ALONE ALMIGHTY GOD Isa 45:5
LET ALL THE WORLD REJOICE Ps 96:11
CHORUS 2x
HOLY HARMONY
Why did God create man?
God created mankind for His pleasure and His glory.
Thou art worthy, O Lord, to receive glory and honour and power: for thou hast created all things, and for thy pleasure they are and were created. Rev 4:11 KJV
Everyone who is called by my name, whom I created for my glory, whom I formed and made." Isa 43:7
 What does "created for His glory" mean?
Synonyms for the word glory include: fame, praise, honor, renown, brilliance, magnificence, delight, splendor, and greatness.
Our role is to make God's greatness known in the world.
How do we make God's greatness known in the world?
For we are God's handiwork, created in Christ Jesus to do good works, which God prepared in advance for us to do. Eph 2:10
In the same way, let your light shine before others, that they may see your good deeds and glorify your Father in heaven. Mt 5:16
We make God's greatness known by completing the work that God has prepared for us.
Voices that sing in harmony are musically in tune, pleasant to the ear; similarly, believers are God's holy harmony partners that play their part (making God's greatness known) by completing the assignment that God has prepared for them.
From eternity God has been in harmony with Himself. Picture God as a "C" chord, each Person containing the identical notes: C, E G, like three identical triplets. Each Member possesses the same notes or spiritual DNA. The only differences between the three Persons are their frequencies, or the roles they play; yet they produce only one "C" chord or are only one God.
The following verses demonstrate that God consists of three Persons in one God, the Persons differing only in role designations.
Therefore go and make disciples of all nations, baptizing them in the name of the Father and of the Son and of the Holy Spirit. Mt 28:19
Notice that the word "name" is singular in form, not plural, which means this oneness is a composite oneness as Jesus taught this truth in regards to marriage.
The two will become one flesh.  So they are no longer two, but one flesh. Mk 10:8
However, each Person has been assigned a different role. Let's look at their roles in Jesus' baptism.
As soon as Jesus was baptized, he went up out of the water. At that moment heaven was opened, and he saw the Spirit of God descending like a dove and alighting on him.  And a voice from heaven said, "This is my Son, whom I love; with him I am well pleased." Mt 3:16,17
 Jesus' role was to be baptized, to identify with sinful man, while the Holy Spirit was to be a sign for John to identify the Messiah (Jn 1:32-34). The Father's role was to endorse that Jesus was His chosen vessel.
The Father is wholly God, the Son is wholly God and the Holy Spirit is wholly God, not parts that make up God. It is their roles that make each unique.
In regards to salvation, the Father was the planner, the Son the executor of the plan, and the Holy Spirit the completer of the plan.
Synonyms for the word planner include: designer, architect, creator, mastermind, organizer, policymaker, orchestrator, begetter, and father.
Synonyms for the word executor include: agent, substitute, representative, mediator, maker, author, creator, begetter, and master craftsman.
Synonyms for the word completer include: consummator, accomplisher, finisher, perfecter, cleaner, fulfiller, emptier, remover, and maturer.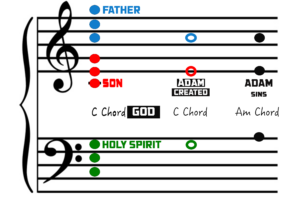 When God created Adam, He created Adam in His image. He was indwelt with the Holy Spirit and was in harmony with God obeying all His commands (naming the animals, working the garden).
Then the Lord God formed a man from the dust of the ground and breathed into his nostrils the breath of life, and the man became a living being. Gen 2:7
Just as Jesus breathed the Holy Spirit on His disciples, the Father breathed the Holy Spirit into Adam.
And with that he breathed on them and said, "Receive the Holy Spirit."  Jn 20:22
What is the difference between Adam's creation and Seth's birth?
This is the written account of Adam's family line. When God created mankind, he made them in the likeness of God. He created them male and female and blessed them. And he named them "Mankind" when they were created. When Adam had lived 130 years, he had a son in his own likeness, in his own image; and he named him Seth.  Gen 5:1-3
What is the difference between "likeness of God" and "likeness of man?"
Adam was given one restriction: not to eat from the tree of the knowledge of good and evil. However, when Adam sinned he died spiritually, meaning God left him (the absence of the Holy Spirit). When Adam had Seth, he was born in Adam's image, spiritually dead (without the Spirit of God).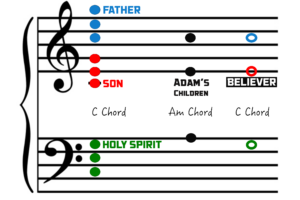 When anyone believes the Gospel their sins are forgiven and the Holy Spirit indwells them. The sad "Am" chord now turns into a pleasant "C" chord. The believer is back in harmony with God.
Whoever believes in me, as Scripture has said, rivers of living water will flow from within them." By this he meant the Spirit, whom those who believed in him were later to receive. Up to that time the Spirit had not been given, since Jesus had not yet been glorified. Jn 7:38,39
And I will ask the Father, and he will give you another advocate to help you and be with you forever—  the Spirit of truth.  Jn 14:16,17a
What caused the Spirit to leave Adam? His sin. What caused the Spirit to leave Jesus? Our sin. Why can Jesus say that the Holy Spirit will be with believers forever (why can't the Holy Spirit leave?).
God has said, "Never will I leave you; never will I forsake you." Heb 13:5b
God will never abandon us because all of our sins have been forgiven.
When you were dead in your sins and in the uncircumcision of your flesh, God made you alive with Christ. He forgave us all our sins. Col 2:13
God will never stop singing in harmony with us but we can grieve His Holy Spirit by singing sour notes, off key, not singing the notes that God desires us to sing.
And do not grieve the Holy Spirit of God, with whom you were sealed for the day of redemption. Eph 4:30
If we love God, we will be conformed into His Son's image more and more each day and be obedient to all of His commands.
You were taught, with regard to your former way of life, to put off your old self, which is being corrupted by its deceitful desires; to be made new in the attitude of your minds; and to put on the new self, created to be like God in true righteousness and holiness. Eph 4:22-24
 God wants us to play our part in Holy Harmony, hitting all the pleasing notes.
Let the message of Christ dwell among you richly as you teach and admonish one another with all wisdom through psalms, hymns, and songs from the Spirit, singing to God with gratitude in your hearts. Col 3:1