WHEN PEACE, LIKE A RIVER, ATTENDETH MY WAY
WHEN SORROWS LIKE SEA BILLOWS ROLL
WHATEVER MY LOT, THOU HAS TAUGHT ME TO SAY
IT IS WELL, IT IS WELL WITH MY SOUL
IT IS WELL, WITH MY SOUL,
IT IS WELL, IT IS WELL, WITH MY SOUL
MY SIN, OH THE BLISS OF THIS GLORIOUS THOUGHT
MY SIN NOT IN PART BUT THE WHOLE
IS NAILED TO THE CROSS AND I BEAR IT NO MORE
PRAISE THE LORD, PRAISE THE LORD, O MY SOUL
CHORUS
AND LORD HASTE THE DAY WHEN MY FAITH SHALL BE SIGHT
THE CLOUDS WILL ROLL BACK AS A SCROLL
THE TRUMP SHALL SOUND AND THE LORD WILL DESCEND
EVEN SO, IT IS WELL WITH MY SOUL
CHORUS 2X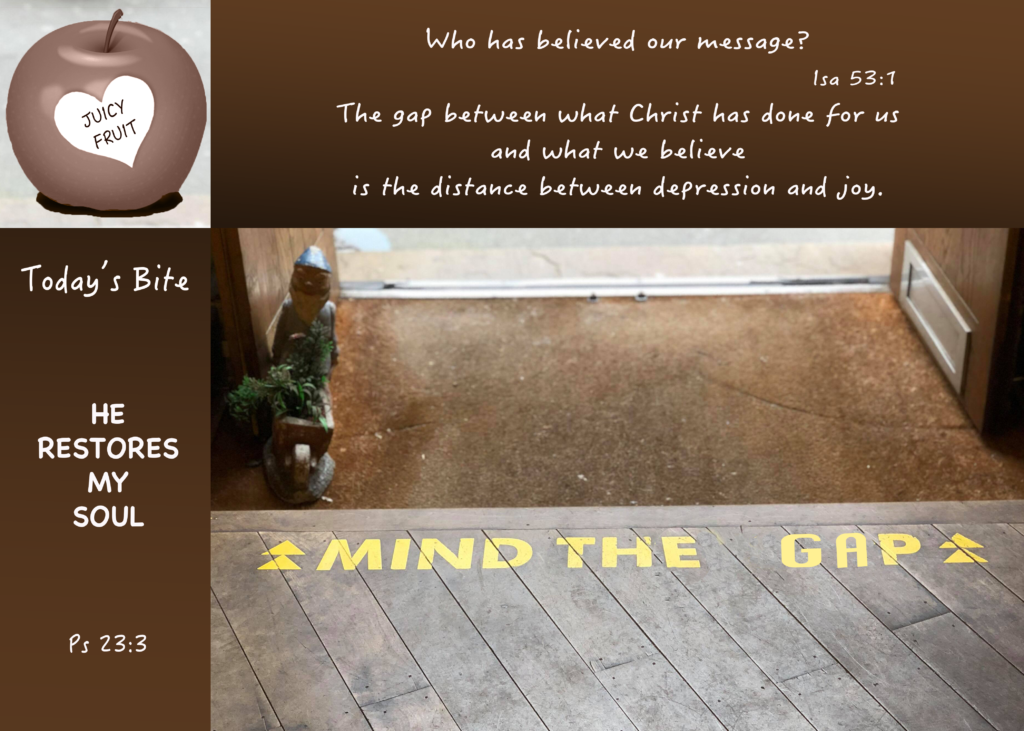 How does God restore our soul? He does this by feeding us truth. When we believe God's promises, our circumstances do not change in the physical world, but they certainly do change in the spiritual realm. If you want to get rid of depression and experience the joy of the Lord meditate on the following verses.
Isa 53:4 says, "Surely he took up our pain and bore our suffering. "Do we truly understand the depth of this declaration? When we receive our promotion and enter into eternity we will never again experience pain and suffering for God will have dried up all of our heartaches and tears forever (Rev 21:4). This wonderful truth then supplies us with hope and perseverance to rise above our present trials.
A second encouraging passage is found in 2 Co 4:16-18 which exhorts us to focus our thinking on eternity and not this temporal life. "Therefore we do not lose heart. Though outwardly we are wasting away, yet inwardly we are being renewed day by day. For our light and momentary troubles are achieving for us an eternal glory that far outweighs them all. So we fix our eyes not on what is seen, but on what is unseen, since what is seen is temporary, but what is unseen is eternal."