A pen is an instrument used to express thoughts on paper. But it is the ink that makes it possible to preserve those reflections for centuries. The pen is a structure and during the writing process is not consumed or changed. However, the ink's sole purpose is to pour itself out and leave its lifeline on the paper. A good analogy can be illustrated in the conversation the pig held with the hen about commitment.  Their master, the farmer, enjoyed his breakfasts and the hen would willingly oblige by providing eggs, but for the pig, he was not too eager, for it meant a total life commitment to provide the bacon.
In our marriage, Julia shared my love for music. I loved creating music but I was not endowed with a voice that was pleasant or could stay on key. Fortunately, Julia had a beautiful voice with a creative mind filled with inspirational thoughts. She, however, did not have the same intensity for creating music and left on her own would have never written any songs. Her love for me was the reason she willingly got involved in our music. We played in bands in our early years of marriage and developed a "Jingle" company producing melodic commercials. However, when we discovered Jesus, our interest in music changed to worshipping the Lord. We spent the next thirty years writing 125+ Christian songs dedicated to praising God or encouraging his people.
Two years ago, Julia was diagnosed with stage four cancer without any hope of remission. During the following eight months, I fervently prayed believing God would heal Julia, but unfortunately for me, it was not God's will. A short while before Julia received her promotion, I shared lyrics for a song which I had written for her. Two and a half years later, I have completed her song and am hoping God will preserve it, so that Julia, one day, will be able to know how much I yet love her.
I called the song, "You're the Ink in My Pen," as Julia was the creativity in our music. She poured out her heart to the Lord in her lyrics and singing. I basically, created the musical beds while Julia wrote the lyrics, melodies and sang the tunes. However, just as a pen is inoperative without ink, I needed Julia, in order to express my thoughts to God. This song acknowledges the truth that Julia was the ink in my pen and hopefully in the next life, our pen will be filled with "rivers of living water" and Julia and I can continue to worship God as one, in eternity.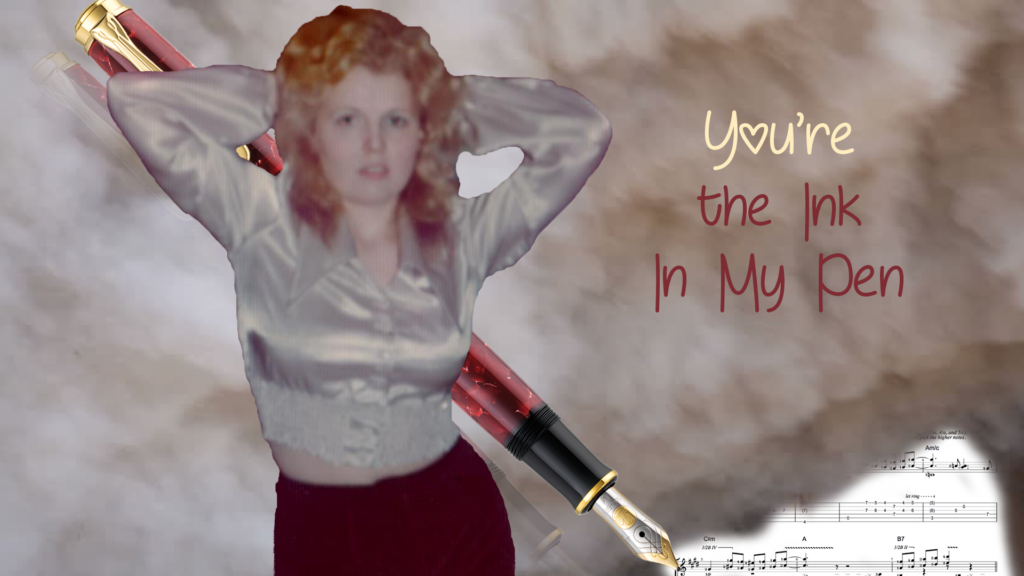 Here are the lyrics for my song. I used old vocal clips from Julia to include her in the song. Her nickname was "Tang" and mine was "Streeter."
YOU'RE THE INK IN MY PEN
Tang YOU WORKED SO HARD MADE A HOME
YOU WORKED SO HARD MADE A HOME
SHOWED US THE WAY
Streeter YOU'RE MY JULIE, BUT YOUR NAME IS JULIA
Tang ALL THOSE MEMORIES WILL STAY
Streeter I SPIED YOUR PHOTO ON THE WALL
HELD CAPTIVE TO THE BEAUTY I SAW
EYES OF BLUE, LIPS FRESH LIKE MOUNTAIN DEW
YOU CONSUMED MY HEART WITH AWE
YET I THOUGHT TOO LOFTY A GOAL FOR A BOY LIKE ME
BUT THE STARS ALIGNED, AND YOU STILLED MY SEA
LIKE TWO PART HARMONY PLAYED ON A SINGLE TRACK
NOW TO GOD, I PRAISE AND GIVE GLORY
YOU'RE THE INK IN MY PEN
MY LOVER, CONFIDANT AND FRIEND
A MOTHER DIVINE, A WIFE SO FINE
THE BALM THAT HEALS MY WOUNDS
JULIA, I LOVE YOU
WHEN MY HEART BEGAN TO POUND
YOU CRADDLED ME IN FEATHER DOWN
YOU BORE MY WOES AND SHED MY LOWS
CHANGED MY SORRY BLUES TO A JOYFUL SOUND
BUT WHEN TROUBLE INVADED YOUR STREET
YOU ENDURED AND FACED HER HEAT
WHAT A PRECIOUS PEARL, A SELFLESS GIRL
YOUR WINE, IT AGED SO SWEET
CHORUS
BRIDGE
Tang I'M A LUCKY GIRL WITH A FAMILY FULL OF LOVE
AND IT WILL ONLY GROW WITH EVERY CUDDLE AND HUG
YOU MADE MY LITTLE WORLD A WARMER, BRIGHTER PLACE
AND I'M SO GLAD TO SEE EACH HAPPY SMILING FACE
OUTRO
Streeter GOD IS YOUR MOST TRUSTED FRIEND
HOW BLESSED, I TRULY AM
WHAT A WONDERFUL, WONDERFUL PARTNER YOU ARE
AND I THANK GOD, YOU'RE THE BEST BY FAR
GOD, YOU GAVE ME THE BEST BY FAR
BY FAR THE BEST, YOU GAVE ME,
THANK YOU, LORD, FOR MY JULIE
ALL PRAISE AND GLORY TO THE GOD I LOVE
Tang THE GUARDIAN OF OUR HEARTS
I also completed our autobiography, "If God Gave Me A Voice" by Streeter and Tang.  The book can be purchased on-line by clicking on christianbook or Amazon.