Ps 130:5
I WILL WAIT ON YOU LORD
FOR YOU ARE MY STRENGTH AND MY SHIELD
YOU SPOKE AND ALL CAME TO BE
FROM THE HIGHEST MOUNTAIN TO THE SEA
YOU ARE LORD OF ALL
THE BREATH THAT GIVES NEW LIFE
YOUR EYES REGARD YOUR OWN
AND YOUR RIGHTEOUSNESS SHINES LIKE THE DAWN
AND I WILL WAIT,
YES, I WILL WAIT
FOR MY HOPE
IS IN YOU LORD
I WILL WAIT ON YOU LORD
FOR YOUR PRECIOUS LOVE RESTS ON ME
BY YOUR WORD THE HEAVENS WERE MADE
AND EVERY STAR PRAISES YOUR NAME
WITH YOU LORD ALL THINGS ARE POSSIBLE
AND YOUR PROMISES NEVER CHANGE
MY FAITH WILL BE STEADFAST IN YOUR WORD
ALL THE REST OF MY DAYS

CHORUS
BRIDGE
I WILL WAIT, I WILL WAIT,
OH I WILL, I WILL, I WILL
I WILL, I WILL, I WILL WAIT
OH I WILL WAIT, YES I WILL WAIT
FOR MY HOPE IS IN YOU LORD
OH I WILL WAIT, OH YES I WILL WAIT
FOR MY HOPE IS IN YOU LORD
I WILL WAIT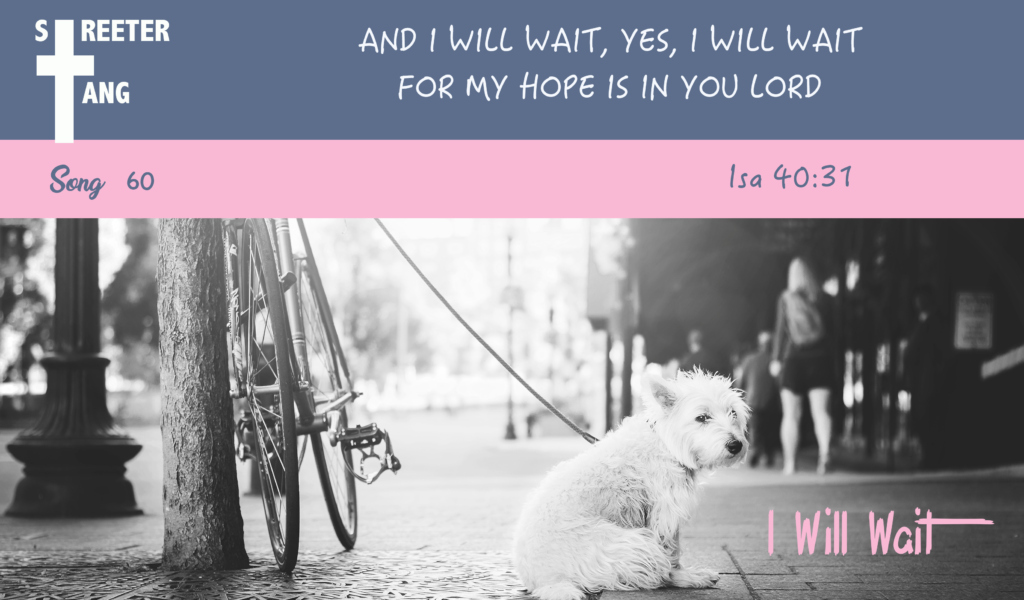 We can learn from dogs. They are called man's best friend because they are obedient. If they are left on a leash to wait, they will sit quietly until their master returns. We need to wait patiently until God's time is right for us to move on ( Isa 40:31 KJV).
Colin Smith https://unlockingthebible.org/broadcast/trusting-darkness-1/
Waiting is a beautiful expression of love.
If you have had any kind of surgery and awoke after recovery to find someone sitting across from you, just waiting, you know that you are loved.
The length of time that we are prepared to wait, is the value that we place on the person we are waiting for.
Wait for the Lord; be strong and take heart and wait for the Lord. Ps 27:14
David had many fearful situations where he was being pursued by his enemies, who wanted to kill him, but his prayer was that he would wait on the Lord, for His deliverance. In the meantime, he would be strong, remembering his past experiences, when God delivered him from former enemies, and would take heart that His God is faithful, and will do the same in the future.