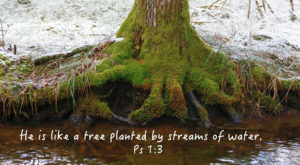 "But blessed is the one who trusts in the Lord, whose confidence is in him. They will be like a tree planted by the water that sends out its roots by the stream. Jer 17:7,8
 It is the roots of a tree that anchor the plant to the ground. The deeper the roots, the stronger and more secure the tree will be.
 In the spiritual realm, we need to develop (grow) our belief system (roots) from the heart of God: to drink our fill of the comfort and insights (water) of the Holy Spirit. The deeper our faith, the more confidence and trust we will have in God.
 And I pray that you, being rooted and established in love, may have power, together with all the Lord's holy people, to grasp how wide and long and high and deep is the love of Christ, and to know this love that surpasses knowledge—that you may be filled to the measure of all the fullness of God. Eph 3:17-19
 …Jesus stood and said in a loud voice, "Let anyone who is thirsty come to me and drink.  Whoever believes in me, as Scripture has said, rivers of living water will flow from within them." By this he meant the Spirit, whom those who believed in him were later to receive… Jn 7:37-39
 The green leaves capture the sunlight that provide the energy for the tree to grow, while the flowers produce fruit that contain seeds for reproduction.
Spiritually, God's Word (light) motivates us and helps to change our character (fruit), which will then desire to do good deeds. These kindnesses will provide us with opportunities to share the gospel that will result in others coming to know Christ (spiritual reproduction).
 "But the fruit of the Spirit is love, joy, peace, patience, kindness, goodness, faithfulness, gentleness, self-control; against such things there is no law." Gal 5:22,23
 …unless a kernel of wheat falls to the ground and dies, it remains only a single seed. But if it dies, it produces many seeds. Jn 12:24
I WILL TRUST 
IN THIS LIFE WE WILL HAVE TROUBLES
THE ROAD WE TRAVEL CAN GET SO ROUGH
MAKING IT THROUGH ONE DAY AT A TIME
AND SOMETIMES WE FEL LIKE JUST GIVING UP
BUT I WILL TRUST IN YOU ONLY
AND I WILL WALK IN YOUR RIGHTEOUSNESS
I WILL DELIGHT IN YOUR WORD
FOREVER AND EVER AND EVER MY SAVIOUR

I DON'T MEAN TO SOUND UNGRATEFUL
FOR I'VE BEEN BLESSED BY YOUR LOVING HANDS
BUT HERE I AM WANTING TO CHANGE THINGS
NOT CONTENT TO STAY WHERE I AM
CHORUS
YOU ARE MY LORD AND YOU HAVE A PLAN
WITHOUT YOU I FALL BUT WITH YOU I'LL STAND
I HAVE THE VICTORY IN ALL THAT I DO
WHEN I LIVE IN YOUR TRUTH AND I LISTEN TO YOU
BRIDGE
I WILL TRUST YOU LORD, I WILL TRUST YOU
EVERYDAY I'M GONNA TRUST YOU MORE
THERE ARE NO BLUE MONDAY'S LORD
WHEN IT'S SUNDAY IN MY SOUL
CHORUS 2X