WHY IS IT SO HARD TO FACE ADVERSITY
WHY IS THERE SUCH A COWARD INSIDE YOU AND ME
HOW WE FORGET YOUR GREAT SACRIFICE
HOW YOU MEASURED OUR SINS AND FREELY PAID THE PRICE
OH, HOW WE SHOULD LOVE
BECAUSE OF ALL THAT'S BEEN FORGIVEN
OH, HOW WE SHOULD LOVE
BECAUSE OF ALL OF OUR SINS
LET ME SEE THE JOY IN PERSECUTION
AND IF SUFFERING IS THE CALL, HELP ME TO GO
LEAD ME DOWN THE PATH YOU HAVE FOR ME LORD
TEACH ME EVERY DAY TO TRUST YOU MORE
CAUSE, OH, HOW WE SHOULD LOVE
BECAUSE OF ALL THAT'S BEEN FORGIVEN
OH, HOW WE SHOULD LOVE
BECAUSE OF ALL OF OUR SINS
WHY CAN'T WE JUST HAVE GRATEFUL HEARTS
UNDERSTANDING, YOU DIED TO SET US ALL APART
THROWING OPEN THE PRISON DOOR, AND NOW WE'RE FREE
I WANT TO LOVE YOU LORD, THE WAY THAT YOU LOVED ME
CHORUS
BRIDGE
THE WORD IN YOUR MIND IS WHAT YOU KNOW
THE WORD IN YOUR HEART IS WHAT YOU LIVE
OH, HOW WE SHOULD LOVE
BECAUSE OF ALL THAT'S BEEN FORGIVEN
OH, HOW WE SHOULD LOVE
BECAUSE OF ALL OF OUR SINS
2X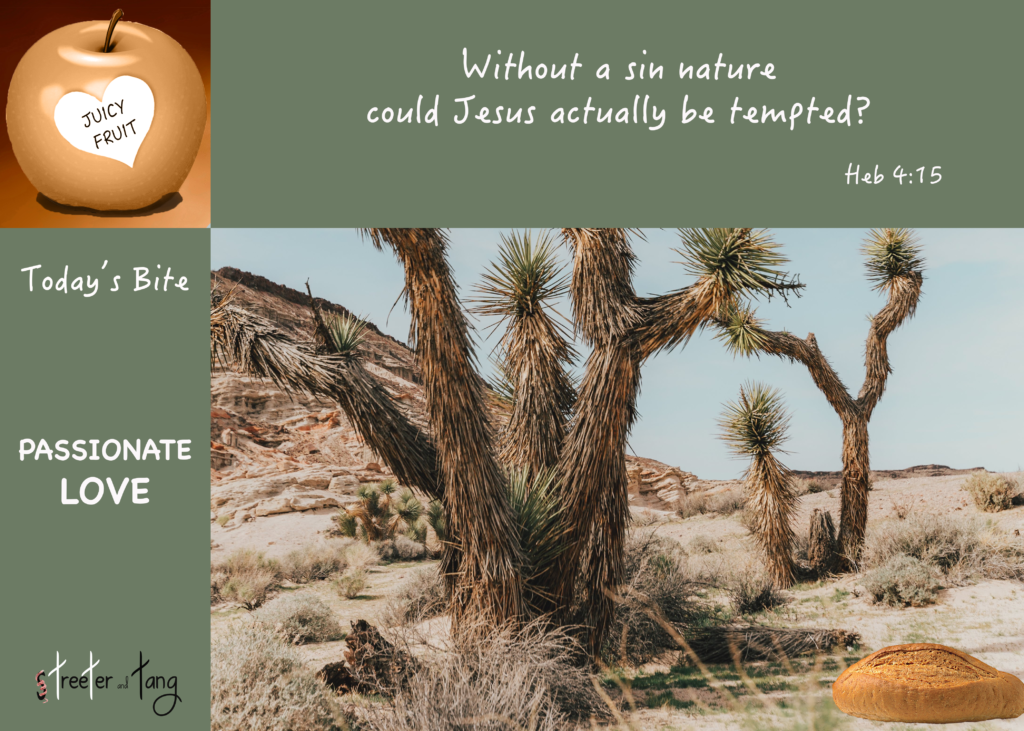 Jesus differed from most of mankind (Ps 51:5) because He was born without a sin nature (Mt 1:18), similar to Adam and Eve (Gen 2:7 God breathed).
However, when Adam and Eve were tempted they failed the test and sinned (Gen 3:6). If Jesus could not be tempted then the writer of Hebrews couldn't have stated that "Jesus was tempted in every way, just as we are" (Heb 4:15).
Why then, did Jesus not give in to Satan's temptations? It was because of His eternal love relationship with His Father. That love was so enduring that His will had no interest or desire to yield to any temptation Satan placed in His path.
In a limited way, I can understand this strong love-bond and its implications through my relationship with my wife. I was married to Julia for forty-two years before God called her home. Even though, I still have a sinful nature and sin daily, there are areas that Satan could not entice me, in exchange for compromising my love for Julia. If Satan offered the most, godly, compassionate saint on earth, I still would not be interested in marrying this person because my love for Julia is such that I have no interest in having another relationship, but prefer to wait, to meet Julia again in eternity. If Satan offered me a billion dollars in return for the pleasure it could bring me in this life, I would not be tempted in the least, in exchange for forfeiting my reuniting with Julia.
In the same way, Jesus who spent eternity in a loving relationship with the Father could not succumb to Satan's temptations on earth. Jesus' will is far too powerful in His desire to please the Father and to demonstrate His unconditional love that He could fail any temptation test.
Sadly, there are many people who chose the short-lived pleasures in this life, above God's unconditional love for them in eternity.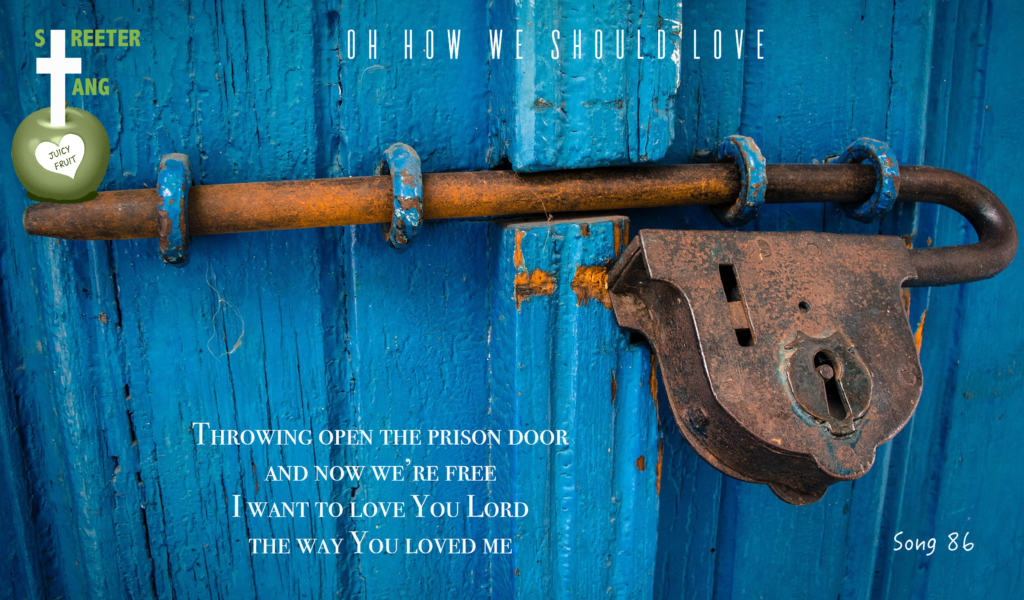 If we really comprehended Jesus' loving sacrifice at the cross, we would be compelled to live preciously for Him. John said, "We love because He first loved us" 1 Jn 4:19 and Tang sings, "I want to love You Lord, the way that You loved me!"
GOOD ADVICE (for Bible study teachers)
Jas 1:17-27
17Every good and perfect gift is from above, coming down from the Father of the heavenly lights, who does not change like shifting shadows. Jas 1:17
God's character is beautifully demonstrated in James 1:17, and as Bible study teachers, we ought to emulate it. The word "every" indicates a consistent pattern, where "good" describes God's character (as seen in Lk 18:19) — a harmonious blend of love, compassion, and justice. The term "perfect" encapsulates God's wisdom, reflecting His infallible knowledge of what's best for us. "Gift" portrays God's generosity, and "above" draws a distinction between heavenly gifts, motivated for our benefit, and earthly gifts, often given with an expectation of receiving something in return.
The word "Father" paints a picture of love, protection, provision, and care for His children's well-being. "Heavenly lights" distinguishes heavenly blessings from worldly ones, underlining that God's giving is selfless and truthful. Ephesians 5:8,9 reinforces this idea by highlighting the transformation from darkness to light, where the fruits of this light encompass goodness, righteousness, and truth. Unlike "shifting shadows" that change, God remains steadfast, unchanging, as Hebrews 13:8 assures us—His promises are and will always be faithful.
18He chose to give us birth through the word of truth, that we might be a kind of firstfruits of all he created. Jas 1:18
God desires us to mirror His character, much like the "firstfruits" that offer a glimpse of the goodness to come. The Gospel transforms us into new creatures in Christ (2 Co 5:17).
19My dear brothers and sisters, take note of this: Everyone should be quick to listen, slow to speak and slow to become angry, 20 because human anger does not produce the righteousness that God desires. 21 Therefore, get rid of all moral filth and the evil that is so prevalent and humbly accept the word planted in you, which can save you. Jas 1:19-21
Beginning at verse 19, God provides three rules for effective communication. The first principle encourages listeners to be fully attentive, valuing the speaker's thoughts and shutting out distractions. The second command, "to be slow to speak," discourages interrupting the speaker or formulating responses mid-discourse. Lastly, we are advised to be "slow to become angry," respecting diverse opinions and agreeing to disagree amiably, maintaining unity even amid differing beliefs. It's crucial to remember that no one possesses absolute truth, and our viewpoints may evolve over time.
22 Do not merely listen to the word, and so deceive yourselves. Do what it says. 23 Anyone who listens to the word but does not do what it says is like someone who looks at his face in a mirror 24 and, after looking at himself, goes away and immediately forgets what he looks like. 25 But whoever looks intently into the perfect law that gives freedom, and continues in it—not forgetting what they have heard, but doing it—they will be blessed in what they do. Jas 1:22-25
Verse 22 forwards an important principle to Bible study teachers: to not only teach the truth but to live it out as well. Participants in a Bible study are more likely to follow a teacher's guidance if they see the teacher applying the lessons to their own life. James employs a vivid analogy, likening the purpose of Scripture to that of a mirror. Just as a mirror is useless if it reveals issues (like chocolate on one's lips or unkempt hair) that are ignored, studying Scripture without applying it renders it unprofitable. The goal is to become more Christlike.
26 Those who consider themselves religious and yet do not keep a tight rein on their tongues deceive themselves, and their religion is worthless. 27 Religion that God our Father accepts as pure and faultless is this: to look after orphans and widows in their distress and to keep oneself from being polluted by the world. Jas 1:26,27
James concludes by emphasizing the importance of being good listeners, as faith without corresponding actions is futile. He encourages believers to engage in good deeds and resist the influence of ungodly actions from the world.